BBA in Marketing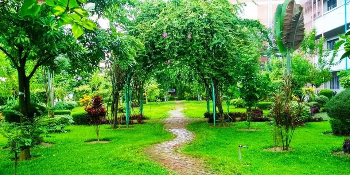 A Bachelor of Business Administration (BBA) in Marketing program is designed to teach foundation concepts, like finance and accounting, and provide a core understanding of business- and marketing-related fields. The marketing aspect of the 4-year BBA in marketing program focuses on advertising topics, such as buyer behavior, pricing theory, importing and exporting. Some programs may be offered online. Programs may require the completion of a research project prior to graduation. Depending on the program, students may have opportunities to study overseas.
What is Marketing?
Universities typically require applicants to this degree program to have high school diplomas or the equivalent for admission. Some colleges also recommend that applicants have taken high school courses in English and math to prepare for a BBA degree program.
Students in a BBA in Marketing program take standard courses on business, management and advertising. They may also be required to take several liberal arts classes. Students may complete classes in the following topics:
Accounting
Math
English
Advertising
Marketing Research
Consumer Behavior
People who have degrees in business administration with a concentration in marketing can find careers that deal with the development of products or services of a business. Graduates may work with teams that create ad campaigns for businesses, or they might be in charge of developing good public relations for a company. They can also work with various other departments of a corporation to try to increase sales through creative and useful incentives. Some common careers may include the following:
Sales manager
Promotions manager
Public relations manager
Advertising manager
Marketing manage
Top universities in the world to study
University of California, USA
University of Pennsylvania, USA
New York University, USA
The University of Texas, USA
Indiana University, USA
University of Florida, USA
Average Tuition Fee: 49,707USD or above but there are many universities around the world having a lower tuition fee.
General Academic Requirement for Admission:
Undergraduate: GPA 5 in HSC or equivalent and foundation course for the above universities but there are many universities around the world having lower requirements.
General Documents Required for Admission:
Undergraduate:
Application Form
Copy of Passport
All academic certificate and Marksheet
English Language Proficiency Certificate
Statement of Purpose
Additional documents may require by the universities
Note: All requirements will vary university to university. There are many universities around the world having lower requirement but the quality of education is really outstanding.
Going abroad for higher study is really a complex and competitive process which requires experience and skill hands guidance. Our expertise extends to guiding students through every step of studying abroad. You can make an appointment at +88 01847334731 / +88 01713453905 for more information and expert guidance.