Detail of Sweden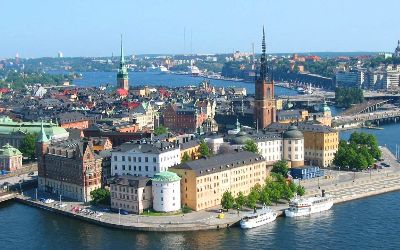 Introduction:
Sweden is a Scandinavian nation with thousands of coastal islands and inland lakes, along with vast boreal forests and glaciated mountains. Its principal cities, eastern capital Stockholm and southwestern Gothenburg and Malmö, are all coastal. Stockholm is built on 14 islands. It has more than 50 bridges, as well as the medieval old town, Gamla Stan, royal palaces and museums such as open-air Skansen.
Country Name: Sweden
Government: Unitary parliamentary constitutional monarchy
Independence: June 6, 1983
President:
Prime Minister: Stefan Löfven
Capital City: Stockholm
Land Area:  450,295 square kilometers
Population: 10,151,588
Ethnic Group:
Major Religion: Christian
Official Language: Swedish
Major Language:  Swedish
Currency: US Dollar ($)
Local Time:  Swedish krona (SEK)
Telephone Code: +46
GDP: Total $601 billion
Bank: Sveriges Riksbank
Exchange Rate with BD Currency: 9.30BDT
Why Study Sweden:
1. Creativity is central
2. Coursework is challenging – in a good way
3. Sustainability and the environment are in focus
4. Equality and diversity are central to Swedish society
5. You'll learn skills for a global career
Education System:
Pre-school
In Sweden, förskola (pre-school) is provided by municipalities for children ages one to five. The amount of municipal subsidy for pre-school depends on the child's age and whether the parents work, study, are unemployed or on parental leave for other children.
Swedish pre-school emphasises the importance of play in a child's development, with a curriculum aiming to ensure children's individual needs and interests. Gender-aware education is increasingly common, striving to provide children with the same opportunities in life regardless of gender.
A year before the first year
All children are guaranteed a place in a one-year förskoleklass ('pre-school year') starting in the fall term of the year they turn six until they start compulsory schooling.
This year is designed to stimulate each child's development and learning, and provide a platform for their future schooling. Although förskoleklass is non-compulsory, almost all children in Sweden attend it.
Compulsory schooling
Swedish compulsory schooling consists of three stages: lågstadiet (years 1–3), followed by mellanstadiet (years 4–6) and then högstadiet (years 7–9). Children between ages 6 and 13 are also offered out-of-school care before and after school hours.
Compulsory education also includes sameskolor (Sami schools) for children of the indigenous Sami people.
Upper secondary school
Gymnasium (upper secondary school or high school, years 10–12) is optional. There are 18 regular national programmes of 3 years to choose from, 6 of which are preparatory for higher education such as university, and 12 of which are vocational.
Top Universities:
Uppsala University
KTH Royal Institute of Technology
University of Gothenburg
Chalmers University of Technology
Cost of Education & Living:
Yearly higher education costs in Sweden vary depending on the university and program. Tuition fees in Sweden range from approximately SEK 80,000 per year (approximately 8,300 EUR or 9,200 USD as of Oct, 2016) to SEK 130,000 (or approximately 13,000 EUR or $14,600 USD as of Oct, 2016).